What is customer experience and why you should focus on it when designing digital products?
It's not that long ago since the widely used phrase user experience (UX) was such a buzzword in the online world. Nowadays, this term is often just a slice of a bigger cake – customer experience.
What is customer experience?
Customer experience (CX) is an emotional experience of the customer based on his interactions with our brand (or company) while considering every touchpoint (individual points – mostly elements of our visual and marketing communication – where these interactions occur). 

When talking about CX, we mostly think of buying or using products and services our company provides for customers. Let's take Apple, for example. Customers of Apple interact with their brand on many different levels – while browsing their website, following the presentation of their latest products, in Apple Stores, unpacking newly purchased products and their longtime usage or while listening to music on Apple Music, watching movies on Apple TV or contacting the customer support in case some kind of problem should occur and so on.
What's the difference between UX and CX?
Now you may wonder. Isn't UX exactly the same thing as CX? The answer to your question can be yes and no at the same time. And both answers are correct. While UX can be understood as the emotional experience of the user based on the interaction with the product, customer experience has a much broader scope. To put it simply, UX represents how the user feels while using the product (mainly speaking of digital products – a mobile or a web application for example). User experience (UX) is closely related to other important concepts such as usability and accessibility, which are considered as individual ranking criteria of this user interaction with the product.

As we've mentioned earlier, customer experience (CX) provides broader view on this subject and comprises of a more complex approach to customer interaction with a specific brand. Generally, customer experience can be any experience of a potential or a current customer based on a certain interaction in relation to our brand. To simplify it even more, CX can be imagined as the feelings surfacing in the mind of our customer when he hears or sees the name of our brand. CX is a very subjective matter and it is difficult to objectify in any possible way. Even the positive customer experience can be influenced by a number of factors – experience with the customer support, physical packaging of the product, design of the business card and many more.

Factors that can positively or negatively impact the experience of the interaction with the brand are mainly reflected in metrics that rather have a subjective character – overall brand satisfaction, interest in further use of products and services or referral – willingness to recommend a service or a product to a friend or a relative.

On the other hand, the main goal of UX is to monitor the aspects that affect the user interaction with the product and focuses on assessing metrics such as success rate of task completion when using the product, time required to complete the mentioned task, the number of clicks needed to complete the task, quantity of errors or the time of the interaction until the task is completed.
Individual parts of CX
Being successful in the field of CX is a long-term process consisting of sales, excellent marketing and building of the brand. Nevertheless, we can't forget about the always ready and available customer support and high-quality products or services (those are the main reason why customers are searching for our company in the first place).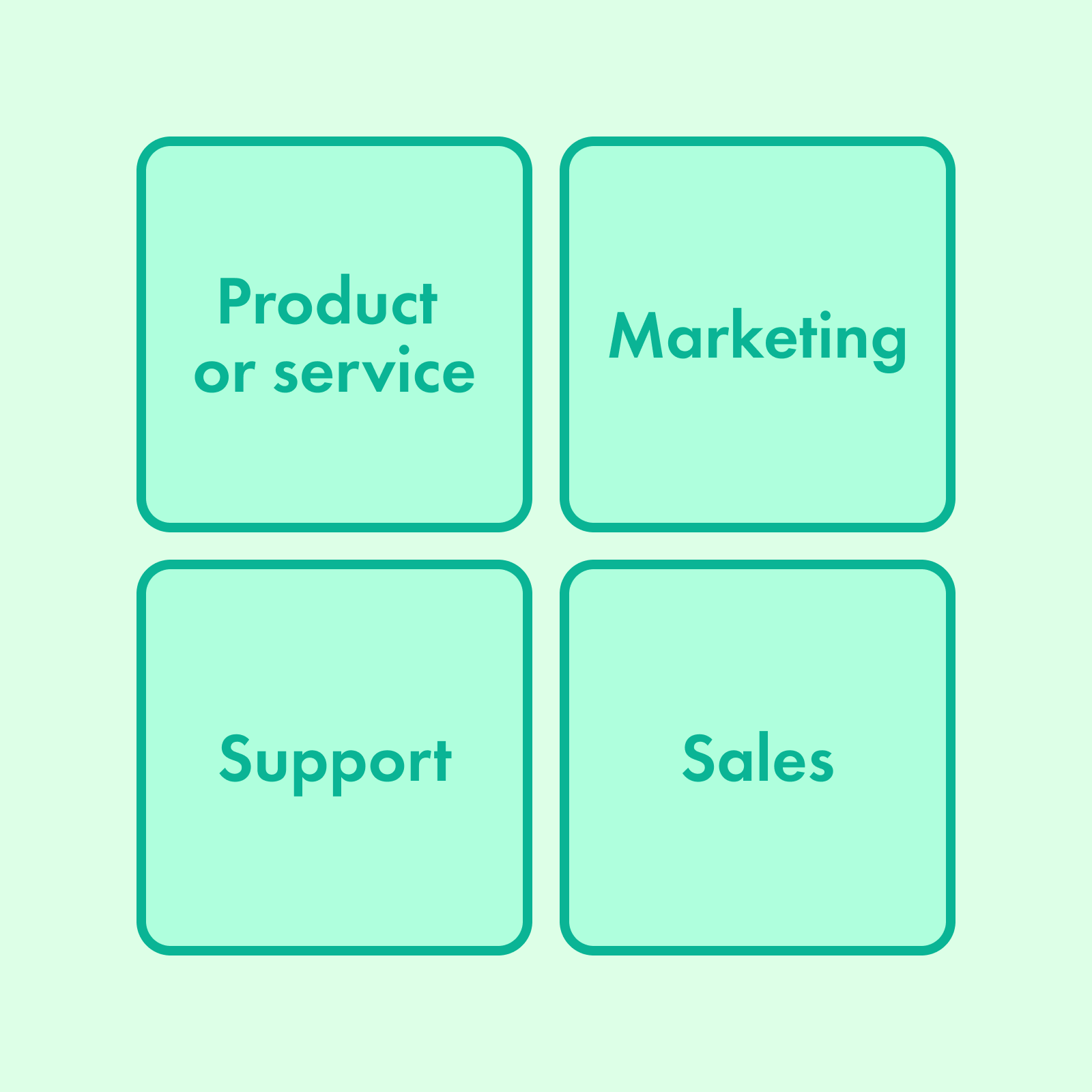 Product or service
Product or the provided service are an integral part of how customers perceive our brand. This is the main reason why customers know our business and why our company can make money – most companies make money from selling products and providing services. In many cases, we can even claim that a product or a service can be a brand itself (e.g. iPhone = Apple mobile phones)
The main foundation for the best possible CX is to focus on meeting and satisfying the needs of our customers. A good product is a simple one, it can be intuitively learned how to use and people are happy to constantly use it without facing any problems – mainly this is the part of CX that UX covers.
Marketing
Don't forget about marketing – it's also an integral part of customer experience just as the product itself. The main task of marketing is to incite the customer's initial interest in buying a product or using our company's services. However, in the long run, these activities are primarily reflected in brand building as such. In any case, marketing can be extremely helpful in the next stages – especially in ensuring customer retention, referral collection or personalization. Some marketing methods – particularly data collection and evaluation – go hand in hand with product development itself, where we are able to customize the product to its full extent according to the needs of users and personalize the entire user experience. A great example of this is the personalization provided by Netflix or Spotify.
Sales
Sales in perception of customer journey – journey of the customer which consists of several touchpoints of interaction with our company – plays an equally important role. Mainly it is the job of sales to ensure the selling of products and services. Sales can especially help to improve the initial experience of a potential customer with our company. The main job of our sales managers doesn't only consist of acquiring new deals, but also presenting the company, the benefits of our products and services and collecting valuable information about potential customers and their needs.

 
Customer support
Customer support is probably one of the most important places where the interaction between the customer and our company takes place. Customer support is most often the place where we can bind the customer to our company in the long run or completely lose him. A perfect product or a service simply doesn't exist. That's why there's customer support in every product-oriented business. Customers can have a wide spectrum of various questions or problems while using our products and services – it's natural and no company can avoid that. That's why the leaders of the company should carefully choose the people sitting in customer support positions – they should be able to answer questions of customers and provide them with solutions. Customer support provides us with valuable insights to effectively prioritize plans for our further product development in the long run. In the same way, we can optimize our services and their benefits.
Get in Touch with Us: 
Fill in this form, or, if you prefer, send us an email. Don't worry, we'll send you an NDA and your idea will be safe.