Mobile App Development Trends in 2018
The year 2018 has already started, so we can introduce what trends are the most exciting and important to keep an eye on in 2018 and beyond.  
1. Artificial Intelligence
Many experts say that that 2018 will become the year when businesses understand the importance of artificial intelligence (AI) and will try to implement it. Most of them are convinced that AI will help bridge the gap between more and more tools that we use every day. 
Forbes has published that the 300 - 350 million dollars spending for AI in 2015 is projected to be 300 billion dollars by 2025.  
 
2. Augmented & Virtual Reality
Both of these technologies have revolutionized gaming and entertainment and today are gradually penetrating all other areas. Their use can be found in sectors from construction to internet communication. Augmented reality is becoming popular in Slovakia, too.
Statistics show that total number of mobile apps with built-in AR capabilities is around 1.58 million in 2018 and it is expected to grow up to 4.67 million in 2022. By 2025, the worldwide user base of AR and VR games is expected to grow up to 216 million users. 
 
3. Android Instant Apps
In spring 2016, the concept of Android Instant Apps was introduced. These are you can find in the Play Store and just click on "Open App". The will open without installing any software.
Most of us have already downloaded the app just to do a single task. For example, you downloaded the app to view the attachment you received, complete the purchase on the site, or track the package that travels to your address. And in such cases, you could use Instant App.
4. Mobile payments
Global mobile payments exceeded 700 billion dollars in 2017 - it is a rise of nearly 500 billion dollars over the past 4 years. This is a combination of Android Pay and Google Wallet, which allows you to pay through your mobile phone and then via a button in online stores. It will be easier for you to use the payment information, too. 
 
Source: Pinterest.com.
5. Gestures and animations in application
Especially with the release of the iPhone X, it has been shown how great the gestures can be when using a smartphone or application. Gesture-driven user interface can result in:
Less clutter
Even easier to use
Seamless interaction
The more the application relies on gesture control, the fewer buttons appear on-screen and that result in a content-oriented product.
6. Personalization will continue to grow
Personalization is currently a huge trend and the demand for it from business is still growing. Great examples are Airbnb a Netflix brands that monitor your preferences - the trips you take, the movies you watch, or what you generally search for - and offer you a more personalized experience.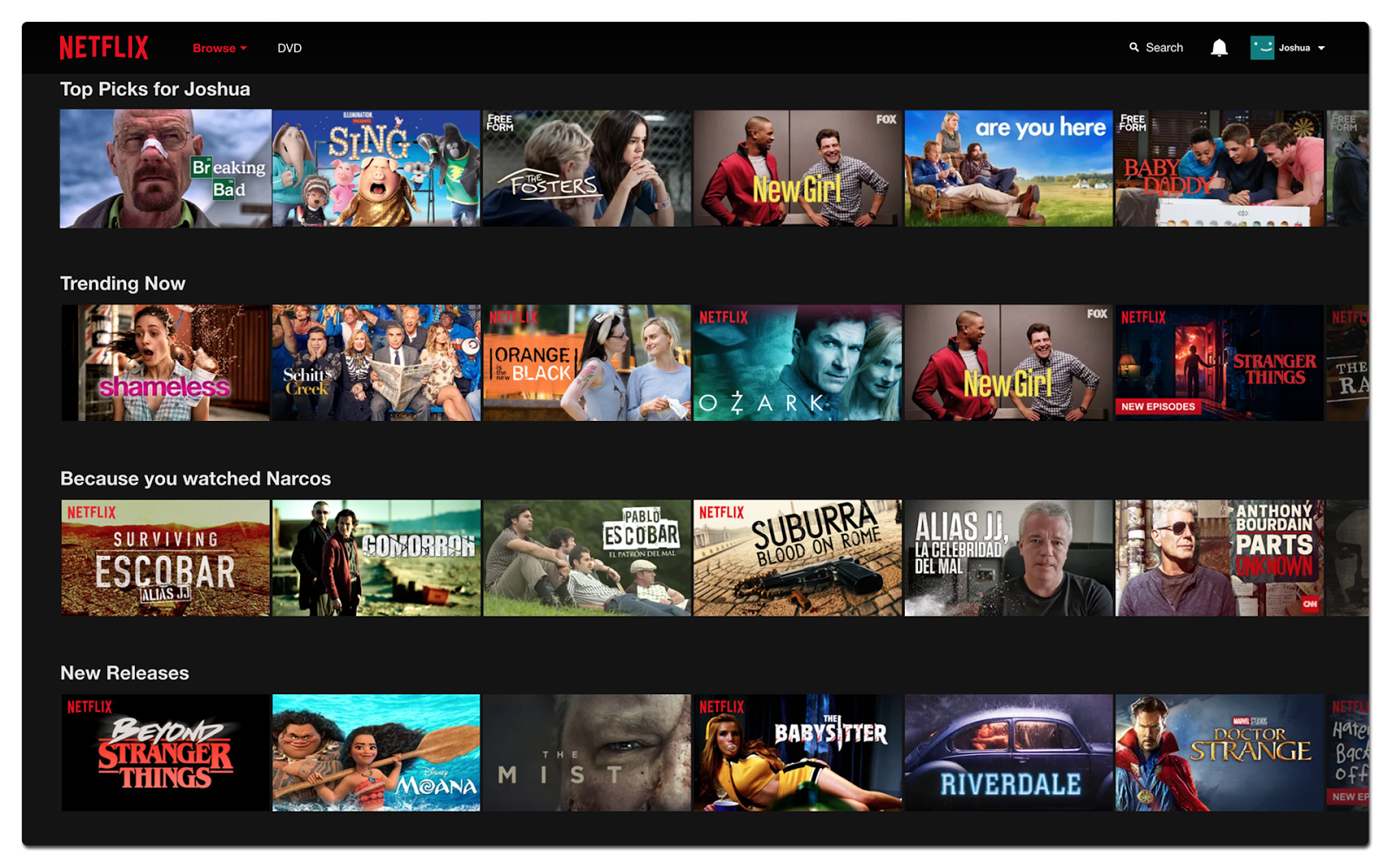 Source: Medium.com/Netflix-techblog. 
Do you want to be our client?
Fill in this form, or, if you prefer, send us an email. Don't worry, we'll send you an NDA and your idea will be safe.